17.00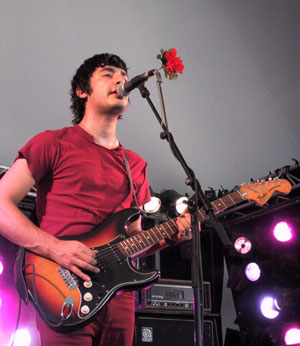 This is a band member of Hopewell, just one the acts I saw. I counted them all and came to the staggering total of 47 acts. It explains why my legs feel quite numb. Now of course you canít see all that you want to see and you certainly canít remember them all. Take 311 (17.10, skate) e.g.: I saw them, but donít ask me to review them as I simply canít remember them. One comforting note to them: I may not have remembered how well you played, at least this means you werenít bad. I wouldnít have forgotten that. Still, it leaves me with the opportunity to tell you that there was a tiny Berber village near the Skate Stage where you could hear traditional Berber music, eat some traditional Berber food and drink Berber tea.
Apparently tea is very relaxing and the same can be said of Stephen Malkmus (17.25, Marquee). Now that heís solo, we notice how big an influence he was in Pavement. Despite some rocking moments overall the concert was pretty mellow. It was a good gig, but of Malkmus I expected a little bit more genius.
Pukkelpop has a cooperation with a South-African festival called Oppikoppi: they get to see some Belgian acts and we get to see some South-African bands. This year that included Max Normal who seemed to think that less is not more, but more is more. Max Normal performed three times at the festival and people who saw all three concerts told all three were quite different. The set he played in the ChateauXcrapule tent (17.30) went for the rap and dub styles. Outside I was under the impression Eminem had chosen a different stage name, but inside I saw it was Max Normal, blessed with a voice similar to Mr. Mathersí one and almost as quick. But whereas Eminem chooses to wield a chainsaw, Max Normal goes for the incorporation of dub. Letís face it: not a bad choice.
Maybe youíre sitting there reading this review and youíre thinking two things. The first is probably "Blimey, this is a long review!" The second is probably "Hey, how come he didnít say anything on that eighth stage?" Well, because the Shelter is not just a tiny stage (50 seats) for chill-out DJís, itís also one big commercial for Leviís Engineered Jeans. The Shelter is drowned in blue lights and there are four little rooms (Floating Rooms) where the lucky ones can relax in a musical Walhalla. Oh, and there are some ten advertisements for Leviís too, nearly forgot about that. But where chill-out music can be so much more, here is was reduced to new age sounds without the dolphins or birds. The only thing you could relax was your ass if you were lucky enough to get hold of a comfy seat. If you stood there, you just felt like an ass and the sounds of DJ Lomax (17.00) frankly didnít help. I missed the dolphins.
If that was chilling out, I wanted to heat up. Approaching the tent Hopewell (17.30, club) didnít sound like much, but as I got nearer, the band sounded better. Weird that. Within five minutes they changed my opnion from "just another endless guitar band" to "quite a nice collective". Hopewell do rock. And itís not often you see a band with only one girl (the drummer). And itís even rarer to see a drummer in a white tutu. Hopewell didnít leave the stage unnoticed.
18.00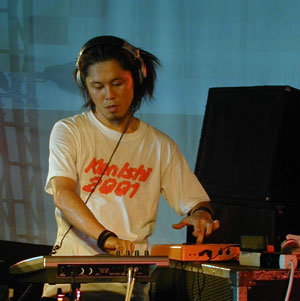 If you entered the Dance Hall after 18.30 and you were wondering what that goo on the ground was, it was probably smegm from the collective orgasm I witnessed at Ken Ishiiís set (17.35). Ishii played live and that was audible: at times it didnít go 100% smooth, but hey, itís better than a couple of idiots faking their set, right? Though there were some intermissions where you could hardly dance, the crowd loved every nanosecond of it Ė possibly because you just canít keep going on for one hour in a hot hall. I saw Ken Ishii two years ago and noticed he is a remarkable DJ. He was also the first to leave the set while the crowd was yelling "booo!". Not because they didnít like it, but because they didnít get more.
In the tent next to the Dance Hall DJ Marky (18.00, boiler) hit the stage. What do we expect from a DJ called Marky? Not much, but still more than the booming beats we got.
The Ataris (18.25) put the ska back in Skate Stage. They also asked a fan up on stage for their last number (in this case the fan didnít know anything about it Ė he was suggested by his girlfriend). A bit of punk, a bit of ska and one good advice from me: donít try too many slow songs, so we wonít noticed the singer isnít that good. Unless they go for a combination with Sian Evans from Kosheen. Our team at the toilets would like to tell you that the drone of the The Atarisí music is quite relaxing for the buttock area.
Remember Stone Temple Pilots? (18.15, main) Itís that band that existed whenever their singer wasnít kicking off in either jail or rehab centre. Youíd think that they could have used all that time for rehearsing, but strangely enough, they sounded a bit out of practice. A short reminder of former glory, but itís not yet time to send them to the Hall of Washed-Up Rock Stars. Well, thatís what we hope. The fluerescant red hair of the singer was hopefully not meant as an attracting gimmick: it works better for Marco (De Heideroosjes) and Matthew (Muse) because they have an extra dose of charisma too. Our fashion team would like to say that youíre sooner noticed in a tutu.
19.00
Beulah (19.10, club)? No Beulah. Bit Meddler (19.00, chateauXcrapule)? Shad bit! Unless youíre in for 45 minutes of "boom boom-boom". Better booming at the Boiler Room where Ed & Kim (19.30) were spinning the wheels of sound. If you like your beats the ambient way, you would have enjoyed their ninety minutes of ambient beats. At times a bit too ambient (which left me wondering about where the beats had gone), but overall nice.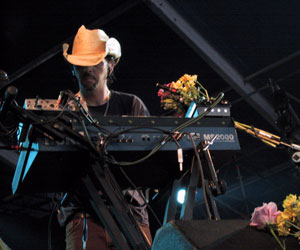 Overall nice is a nice way to describe the people around Mark Linkous. Two years ago I saw Sparklehorse (19.05, Marquee) at a wonderful gig. Two months ago I heard bits from his Werchter concert: it was the day Linkous had a diabetes attack and he had to lay down till the beginning of the concert. Near the end he was losing his voice. Two months later Linkous was back in Belgium and ĎRevengeí had become its middle name. Not the best Sparklehorse concert I have seen, but a very good one. The Marquee managed to stay very hot till late at night, but Sparklehorse was a welcome sprinkler. The latest Sparklehorse is called Itís a Wonderful Life. And despite Linkous not being at his total best (merely 90% of his power) it was a wonderful concert.
I went to see The Vandals (19.45, skate), but my stay was brief. When I arrived the singer was chatting with the audience: "I would like to hear an applause for the security team. (Ö) No, the security sucks." Another band member chipped in: "Ha ha ha." Back to the singer: "No, thatís unfair. These people have been working here all day to keep it safe for everyone and they deserve an applause. (Ö) No, thatís not right. The security sucks." Other member again: "Ha ha, youíve had them twice, Dave." I wonder why I didnít stay longer.
Some might wonder what Heather Nova (19.55, main) was doing at Pukkelpop. She hadnít released an album in three years, but donít worry: the next one will be released quite soon. Heather and band tested some new songs out, neatly intertwined with her greatest hits. But with Heather Nova it never feels like sheís playing the hits, she just plays songs. She admitted not liking festivals as much as club concerts, but she made sure the audience wouldnít notice that. Still, when thereís a delta plane hoovering over the main stage, one does wonder why Heather Nova either doesnít notice that or doesnít make a comment. The man on the guitar, like most of the audience, kept staring at it though. Which is nice because I do have a little problem with Heather Nova: when I reviewed Oyster, I said I liked the album very much, but itís one song too much. It doesnít matter which song I leave out, but I canít listen to Heather Nova for more than ten songs. Unless someone is flying over your head, then itís okay too. Very nice concert, but just lacking a bit of spunk. So she is right: club concerts resemble her natural habitat more.
20.00
This hour I spent more time in the Boiler Room where Ed & Kim were still around as they were far better than the competition with the notable exception of Portables (20.15, chateauXcrapule) who remember punk like it just to be. Not like those second-rate skate bands or fourth-rate nu-metal acts. Portables played dub punk. Does that exist? It does now.
Allegedly Zero 7 (20.50, dance) sound like the English Air. Well, maybe as Air in their Rohypnol period as this could easily classify as one of the most tedius concerts of the festival. Another contestant for that trophy are a band unworthy of their name Superheroes (20.50, club). The band tried to make you wing, but it seems like, in order to make a record, they had to sell their soul to the devil as their performance lacked every bit of soul you could imagine. And if you were a nanny and had trouble with kids that didnít want to sleep, you should have come to Pukkelpop where Sophia (20.50, Marquee) were playing lullabies. I am very disappointed, I know they can do better.
21.00
Mention the name Rolando to someone and ask that person what (s)he think Rolandoís profession is. Ten to one theyíll answer Ďcircus artistí instead of ĎDJí (21.00, boiler). With the raunchy house beats I heard him play he might have done better with teaching elephants to do tricks.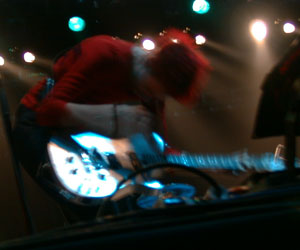 Maybe you have been watching the movie The Exorcist at the cinema or at home and you were thinking: "Well, that exorcising seems like lots of fun." Of course seeing people doing funny walks, moving furniture without trouble, hidden messages on bodies and always yummy green pea soup for lunch, may all sound pretty cool, but it can be quite boring too. Have a look at Matthew Bellamy of Muse (21.45, main) who was exorcising his demons on Origin of Symmetry. Matthewís wailing and howling makes for fantastic songs, but sometimes it seems a bit boring. People who bought the record, know this problem and know it will disappear when youíve listened to those songs a couple of times. Now, of course, at a concert you donít get multiple listens, it all boils down to hearing that song once. Which makes it all the more difficult for Muse. But we can reassure them: the worst moments of the concerts were still above average, the best moments were plainly briljant. Be sure to stand near the middle of the hall or field for the last song where Muse bring out enormous white balls and throw them in the audience. Observing from a distance how the first rows throw those giant balls over the crowd is very beautiful. It might be a cheap and simple gimmick, but itís a very effective one.
Coming up: the gimmicks (or lack of) used by Aka Moon, DJ Snowbrother DHM, Zoot Woman, Less Than Jake, Fireside, Paul Daley, Tricky, The ProdigyÖ and some extra performances! I donít know how you are feeling, but personally I canít wait for part three.