Pukkelpop 2001: THE FULL (and we mean full) REVIEW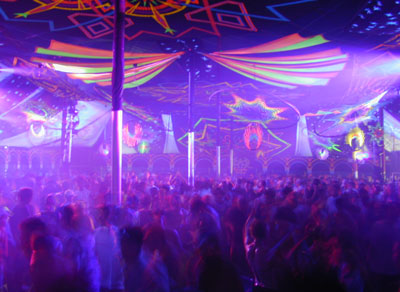 There was no ignoring the burning heat. Outside the tents and on the open air stages the sun had one goal: grilling you. In the tents the temperature did its best to compete with the outside heat. Take the Boiler Room, so-called because the tent is closed so you can fully enjoy the light effects. Of course that makes the damn tent very hot (hence the name). Well, at the 2001 edition the tent was one of the cooler ones.
With a temperature of at least 35°C or 95°F (and at times more than 40°C or 110°F in the tents) the rules were pretty clear. Artists and audience had one common eneny: the sun. Artists and audience had one common goal: good music.
So enough on my burnt body, what was in there for the ears?
12.00
Going to festivals is a social thing. You go with friends, you hang around and you hear good music. Then there's Pukkelpop: eight stages, thirteen hours, 58 bands. If you really want to see as many of the bands as possible, lots of company is a thing you should avoid. That's why this year I conquered Pukkelpop (a name referring to the biggest problem of most of the audience: it's Dutch for Pimplepop) with no company, but with good shoes. Pukkelpop 2001 was once again going to be my own little marathon. Quickly estimated I (with constant moving between the Main Stage, Marquee, Club, Skate Stage, Dance Hall, Boiler Room, ChateauXcrapule and Shelter) must have walked over 30 km.
Which is why I wasn't on the grounds when Millionaire (12.00, Marquee) opened the third day. They're the band of Tim Vahaemel, known for his presence in dEUS and Evil Superstars. He's good, but he's Belgian. Plenty of chances to see them somewhere else.
I could have been just on time to see the last minutes of Boy Hits Car (12.35, main). If they played. Instead Zornik got the chance to open the Main Stage. Good guitars, but though their frontman (13.10, club) may look like Suede's Brett Anderson, he sounds more like a nagging chainsaw. It would have been better the other way round.
13.00
I also missed Saliva at the skate stage because it took me an hour to figure out that one band (Murder City Devils) decided not to come, which resulted in the first two bands at that stage to play 40 minutes later. While Saliva entertained the crowd at 13.35 (skate), I was elsewhere, but I would like to add that their t-shirts were of the coolest being sold at the Merchandising stands. For the first time in years, I didn't buy a t-shirt: either the bands I wanted to buy a shirt of, didn't bring one or they were much too expensive. Up till last year the average shirt cost 700 or 800 franks ($17), now most of the bands sold (ugly) shirts for 900 to 1100 franks ($23). The award for Cheapest Shirts at 600 franks ($13) goes to Hypnoskull (print : nothing but the projects's name) and De Heideroosjes (print: photocopied butt with a flagrence of a penis).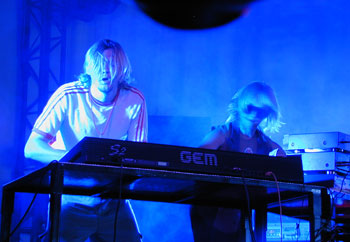 No Galacticamendum shirts, but let's face it: they hardly have a record out. Galacticamendum (13.10, dance) debuted last year at the ChateauXcrapule stage (the tent for all the noble unknowns who are into experimental stuff), which must have pleased the Pukkelpop crew so much, this year the couple from Ghent could open one of the bigger tents. When I arrived, some 200 people were watching, but only 10 people were dancing and that includes me and the band. Near the end of the concert there must have been 500 people in the tent of which 100 were dancing. An increase of 900%, not bad. Galacticamendum didn't bring their most experimental stuff, but tried their best to please the crowd without giving in their obsinate nature. I liked how the boy thanked the audience after each track (even though he didn't have a microphone) and how the girl attacked her keyboards in an impressive impression of a pelican. They used to send radio hosts their demos in very special packages (including one in a pizza box). They must be from another world, but they are welcome to stay.
I was able to see the entire concert of Galacticamendum, not just because they're good, but also because the competition in other tents was relaticely weak. Powderfinger were playing at the main stage (13.45). Two questions sprang up in my mind: who are they and what are they doing here? At that very moment they started playing their single. Oh, that's who they were. The remaining question was never answered and the single was forgotten within minutes.
In the ChateauXcrapule tent you could hear the DJs Desafinados. Their tapes were used inbetween the acts. And speaking of intermissions…
14.00
Always nice to know what you can eat later that day. Of course there were the traditionals (fries, hamburgers, hot dogs, vegetarian dishes, spaghetti, sandwiches, soup, fruit, Vietnamese loempia, bami and nasi), but Pukkelpop does its best to give a bit more to your ears and to your stomach: maybe you'd like to try a kebap, fruit drinks or some traditional Berber dishes? Or would you like to try the newcomers: the African food tent, the fritter tent or the stand with the mushroom sandwiches.
Watching food was way more interesting than seeing Mark B & Blade (14.20, Marquee): rappers who knew one word. Unfortunately, that's 'fuck'. In the three minutes I heard of their set, I counted 50 fucks, 10 motherfuckers and 2 niggaz. We could have sued them for racism if they weren't black. That's political correctness for you.
Kosheen were playing at the Dance Hall (14.25). Why? The first songs I heard were slow and rhythmless. You have to hand it to the band: they managed to be in a hot tent and play a lukewarm concert. Then they decided to spice their tempo up and instantly it became painfully clear why they played so many slow songs: they do it for their singer. Speed up the songs and she can't follow the tunes anymore. To date their biggest succes is called Hide U and that's just what I did.
DJ Leno (14.30, boiler) shares a last name with the man who hosts The Tonight Show. As a DJ you might come with a better credit. Not bad, not good. I see why this DJ chose that stage name.
It's time for a synopsis of a Miles song (14.30, club): intro with heavy guitars, guitars tone down as singer starts, guitars well up for chorus, more lyrics so the guitars go silent for a moment prior to another loud chorus and an outburst for the finale. That's how we make rock songs according to the guide How to Make a Rock Song, recommended by all the successful managements. Lyrics featured unforgettable lines like "yeah-hi-yeah" and "dum-da-dum". The day rock died and became a corporate product.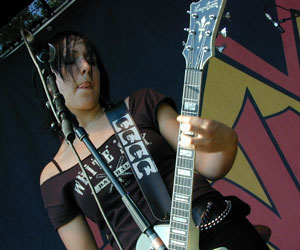 The four girls at the skate stage (14.45) looked remarkably like the quartet on the cover of a Sahara Hotnights cd. With so many labels around someone must have thought of the description "funky punk". If not, I've just invented a term and if you want to use it, send a check. Louder than the MTV bands who think they're punk but not as loud as punk used to sound, it did sound good and they played Teenage Kicks by The Undertones. So they might deserve another listen.
15.00
Hynoskull (15.00, chateauXcrapule) sold some t-shirts with a message: "Electronic music means war to us". Well, that was pretty obvious. Even near the tent you had the feeling you were catapulted to Macedonia. With music that sounds like granate explosions, Hypnoskull is the ideal band for those who think there just isn't enough war in the world. It also sounded like they could sign on Alec Empire's electronical hardcore label any minute now. If they aren't shot by then.
More people ready to be shot: Spooks (15.05, main). Aren't they the one from the hit single Karma Hotel? Yes, but it must've been bad karma then. The two male rappers uttered lots of words with lots of repetitions for 'fuck', 'bitch' and 'shit'. Words with more than one syllable were sung by a woman. Sorry, did I say 'woman'? I meant a fucking shit bitch of course. They may be called Spooks, but they're not ghostly. They're ghastly.
Zebrahead (15.50, Marquee) are a band with some alternative hits. Part of their concert consists of playing those hits and some other songs which are meant to fill up the time between the hits. Sometimes they're loud, sometimes they're not. Hip they are, artists they're not. But maybe they could become that one day, if they can be bothered.
There's less hope for Natalia M. King (15.55, club). Oh sure, she's a nice person and she can sing well and you might call her songs 'exotic blues', but her album suffers from the same disease as Ani DiFranco's later work: it all sounds way too clean. Nothing against cleanliness, but I would like to know that the person I'm listening to is still alive. But whereas Ani DiFranco manages to open it all up on her concerts, Natalia M. King remains in that near comatose state. I hear some talent lurking, but I guess it's taken too many sleeping pills and we're starting to abandon all hope of ever getting it awake again.
They look like Madonna in her Papa don't preach period, but they sound like Lene Lovich. Yes, it's the Ping Pong Bitches (15.55, dance). In their act they imitate Madonna, dominatrixes and cheap pornv stars. In their music they imitate… wait a minute, which music? Virtually every number sounded the same, but you know what: who cares? At the same moment millions of housewives were gazing at a crown prince marrying a woman with a history of lots of sex and house music, so what's wrong with oriental women sliding over one another's knee? The whole performance is very tongue in cheek and trust me, you don't want to kow what that tongue is doing there. Some people in the audience had brought a blow-up doll along and it made some Bitches nearly lose their act. I guess their main goal is entertainment and if you'd like to have a smirk at the concert, you should check them out. But maybe wait a while with buying their album.
16.00
The Hives (16.00, skate) are five men in black with a letter on their breast. Give me a H, give me an I, give me a V, give me… Okay, you got it. They also brought an amazing light show along: light bulbs that formed the band's name that went on and off. Nice people probably, but on stage they looked like Rocket From The Crypt after a short and bad night. Maybe next time.
Which is more than I can say for Main (16.20, chateauXcrapule) whose landscape sounds (read: twisting some buttons on keyboards so the things went "oooohhooooohhoooo") managed to bore me even before I had gotten into the tent. One advantage: it made the way back shorter.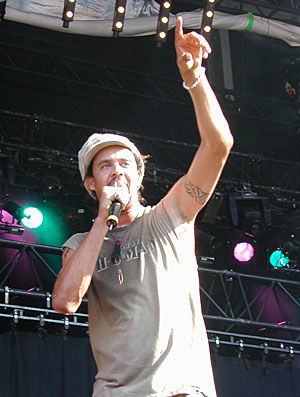 Nearly half of the band quickly reviewed above tried to get the audience to participate in the concert. Get them to sing and clap along may sound like fun, but if you ask me, it's too often used as an easy way out for the band. It's a cheap device for getting the crowd pleased, plus why should we do all the work if we pay them to perform? Yes, crowd participation can be fun, but it's quite difficult to get it right and make the crowd an extra member of the audience. Michael Franti and Spearhead (16.35, main) understand the matter. They don't ask us to fill their songs, they ask us to be an extra layer. Spearhead seemed to use a system: first an unknown song, then a hit. Franti and beatbox/voice wonder Radio filled up the gaps, asked the crowd's opinion and had lots of fun. Name a well-known Spearhead song and I can assure you it was played. After a while Franti and Spearhead managed to wrap all those songs together in one act and you couldn't remember which song they were playing and how long that song had been going on. Maybe Spearhead wanted to take this opportunity to thank the Belgian fans for all their support all those years. That at least is what Michael Franti said and, unlike all those other bands who claim the same, you were willing to believe him. Still, all good parties have to come to an end too and it seemed like Franti and friends didn't want to end it. That is why their last song lasted one minute too long and didn't end with a climax. A small negative spot on a fantastic concert, so we'll forget about that very quickly. We won't be able to quickly forget the concert though. In their own words it was a party for the freeaky people.
Freaky or not, party people should have gone to the Dance Hall where Ken Ishii continued the party. More on him in the next part, as well as 311, Stephen Malkmus, Max Normal, DJ Lomax, Hopewell, DJ Marky, The Ataris, Stone Temple Pilots, Beulah, Bit Meddler, Sparklehorse, Ed & Kim, The Vandals, Portables, Superheroes, Zero 7, Sparklehorse, Heather Nova and of course the third part.
GO TO PART TWO.